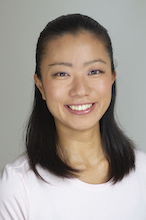 Chie Mukai
»Certified in Level 1&2 GYROTONIC® and GYROKINESIS®
»GYROTONIC® and GYROKINESIS® Pre-trainer.
»Certified on Jumping Stretching Board, Gyrotoner, Leg Extention Unit, Archway Level 1.
»Theraputic Application for Pelvic Girdle, Shoulder Girdle & Scoliosis.
» Application for Dancers Level 1&2.
Chie is originally from Osaka, Japan. Her love of dance led to Boston, MA to pursuit her deep dance education at Walnut Hill School for the Arts. After the graduation, she earned the full scholarship to attend to The Boston Conservatory. While intense hours of studying somatic methods as well as various different dance styles, she started to wonder ' how to prevent and not to create the injured body.
After successful receiving of degree with B.F.A. in Dance, she was eager to explore her career to New York and became afreelance dancer. While observing her dancer colleagues kept getting injured consistently, she decided
to  GYROTONIC® and GYROKINESIS® to understand the body mechanics and help others as well as her own health.
Deepening to get continuing the education for past nine years with various master trainers including the creator and the founder of the method, Juliu Horvath, she is continuously intrigued and inspired by bothGYROTONIC® and GYROKINESIS®. Then, she became a pre-trainer for both methods to expand and reach out to more people.
Chie has worked with clients of all ages with different needs such as rehabilitation of injury, athletes to improve their performance skills, and  non-movers to learn new way of moving. Her teaching approach encourages clients to feel safe in their physical body and mind to ease the pain or blockages. To seek and explore together is her most interest in her teaching. After experiencing many injuries through her dance career, she would like to share thoughts from her experience to find out a solution together.
Outside of the studio, she is a huge animal lover, and she loves outdoor activities. She is thrilled to be in part of Movement Studio Malmö.
Additional qualifications:
Psoas Principles Course.
Dynamic Trunk Stabilization Course.
Breathing Course.
Rejuvenation Course with Juliu Horvath
Lotus Blossom, Program 1